Testimonials
Scout Camp at Bramhope Leeds
We don't always know what happens to our equipment when we hire it out, often arriving days before the event and collecting once everything is over. It is really good when we here from clients and see what they have been up to. We just recived the following following a recent hire to a meeting of scouts from many different countries
Christine
Thanks for this. Everything went well and your equipment was used by 100 scouts every day for breakfast, lunch, dinner & supper along with activities including crafts, writing and seating for indoor campfires (it rained a little).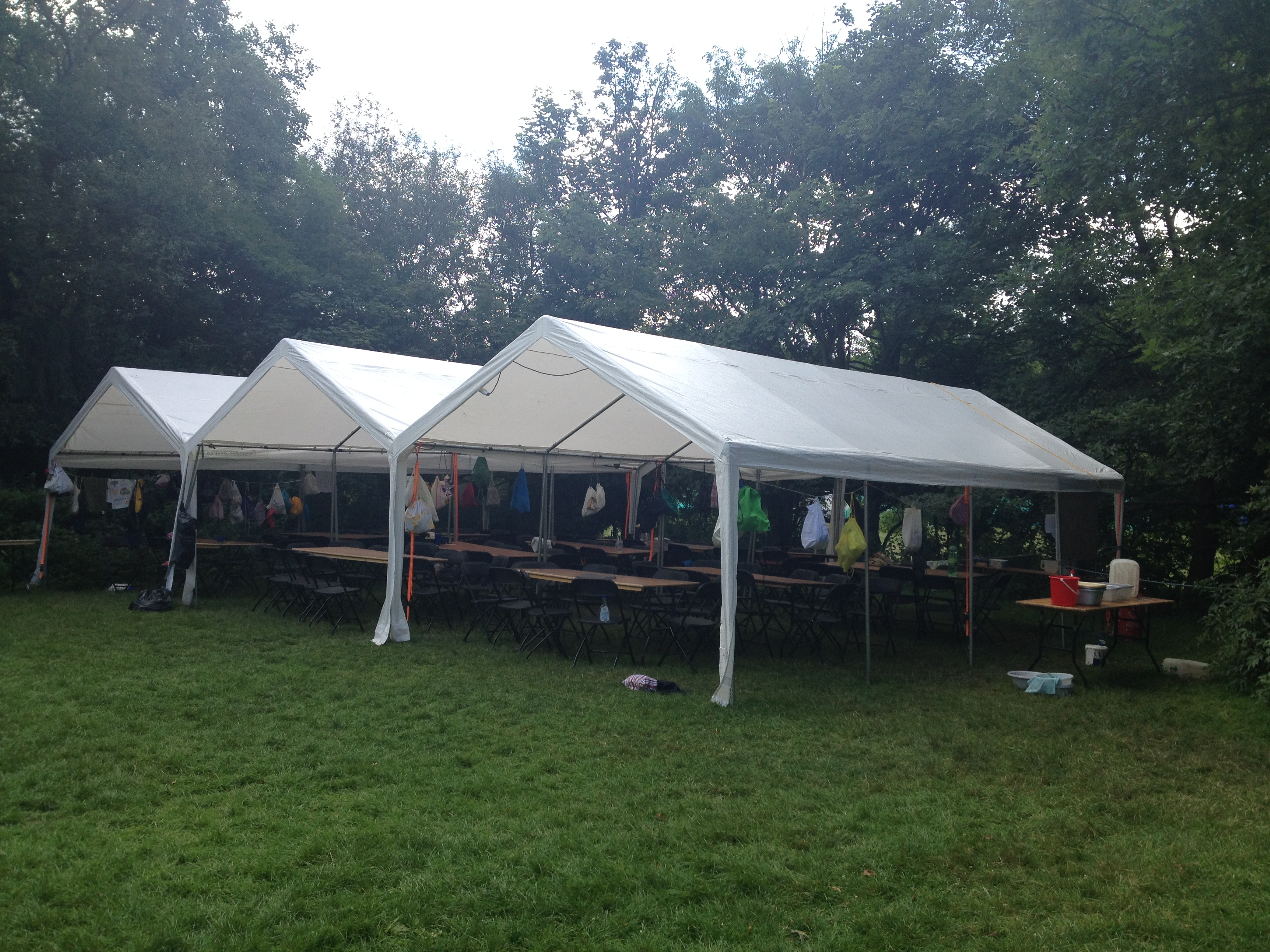 1000 new chairs for hire
Yorkshire Furniture Hire have increased their hire stock by 1000 chairs for the forthcoming year. Limewash chiavari chairs appear to be the ones to have at the in crowd weddings... Book early to avoid disappointment..
Doncaster Racecourse
Thank you so much Christine for the emergency delivery late last night of banqueting furniture for our function. You really helped out as we would have been stuck without it...thanks again - great service..
Woods Marquee Hire, Lincoln.
Woods Marquees of Lincoln are one of Yorkshire Furniture hires largest customers hiring over 5000 chairs per annum - Our service, delivery and chairs are first class - the value is second to none and will continue to use us throughout 2012 for all furniture hire.
Planning for winter 2012
As summer has drawn to an end and our furniture has been present at weddings, garden parties, race meets, vip lounges for festivals and graduation balls, we look forward to the party season for 2012. To add to our extensive range of dance floor we have NEW all black Nightlok® dance floor to compliment our range that already includes the market leaders Publok® black & white dance floor and the all white Wedlok® dance floors. The versatility of the combination of these floors is only as limited as your imagination.
Client Testimonials
"Thanks for making it stress free and for all your help and advice in the lead up to the big day."
Sahra Gutridge
Marketing Executive Embridge Consulting
"Thanks for everything. People commented on how lovely the chairs were and really added to the venue" - Anna Readman, venue Hutton Rudby Village Hall
"Forgot to respond before but THANKYOU so much for sorting out the chairs for Sophie and Cameron's wedding in Kirkby. It may seem a trivial thing but they were really happy as its the details that make things right. Very grateful and many thanks Debbie Stubbs"
"Many thanks - Excellent service" Paul - Cottingham Parks
"Hi Christine
Thanks for everything and collection and delivery was all prompt" Liam - Moo and Goo
"Hi Christine
Just wanted to drop you a line to say a big thank you for organising the delivery of the chairs. They were beautiful and perfectly clean – sometimes you hire these and they are not always that clean!!
Yours chairs were great and we will not hesitate using you again when we are putting an event on.
Thank you." Lynn - The Pentlow Practice for chairs used at The Yorkshire Scuplture Park
"I was very very happy with all the tables and chairs you provided for my party. The chairs in particular went down a treat – very nice – and the tables were just the right size and perfect for the occasion. Delivery and collection was spot on with very pleasant and capable young men to do the job.
I will definitely be recommending YFEvents to people in the future as everything about the whole company is excellent. Many thanks again." Helen - Knaresborogh
"Thank you very much for your services. The chairs looked wonderful at our reception/night do." Sarah Barnsley
"Thank you Christine, the chairs looked fantastic, they were exactly what I wanted." Beth Sheffield
"Hi Christine,
Thanks for your email and also a big thank you for the excellent service provided by yfevents! The service could not have been better, we are so pleased that we chose you and we were very happy with the table and chairs provided. Thank you again, we will certainly recommend you to our friends and family. Sophie"
"The furniture was great thank you - the sofa was admired and it fitted perfectly in the garden." Phil - Harrogate. Another very happy and satisfied customer.
"I just wanted to say thank you very much for your help last night and today and for you been able to source the Chairs for us. It was greatly appreciated." - Our client found themselves without chairs just hours before a wedding. Happy to help out. #eventprofs
"Hi Christine Everything was great thanks so much once again for your professional service!" Rachael
"Many thanks Christine and please pass on my thanks to Michael for his excellent service. We had a great event." Heather - Barnard Castle School
"Dear Christine
We are thrilled with everything. Thanks again Anne"
"I was extremely happy with the good and services that you provided for Castle Howard." - Rachel
"Hi Christine. Everything went very well thank you. The tables, chairs and dance floor were all superb and the guys who came to deliver were very professional and friendly." - Oliver
"The theme of our grand-daughter's 21st party was black and white, so that the hired dance floor (black and white squares) was absolutely perfect. Your delivery, fitting and removal went according to plan, so we were very pleased indeed with the result." Kind words from another happy client - Michael & Tia, Harrogate
"Thanks for your help with this Christine, prompt and professional as always" - Rachel, Morley Chamber of Trade and Commerce
"Thanks Christine
On behalf of all the team I would like to thank the you for your services, Which once again were second to none. Your equipment was in good condition and your staff very helpful and appreciative of our tight deadlines
I look forward to doing business with you soon
George"
"Good morning Christine,
We hope this finds you well, yes the event went very well and the customer was very happy, I believe there is nothing that you could do to improve the already excellent service we received." - Chris - Derbyshire Garden Marrquee Hire - commenting on Cheltenham banquet chairs he dry hired


"Hi Christine
A big Thank you to you and your team. The day went great and your men worked very hard
Kind regards from the Hodgson's :-) " following the hire of tables and chairs for their wedding celebration at The Left Bank Leeds
"The chairs were great, as was the delivery driver. We were very happy with everything."

Richard - following the hire of limewash banquet chairs for his wedding at Devonshire Hall, Leeds University
Hi Christine
"I just wanted to say thank you for all of your help. It was really very easy working with you and your company and made the whole thing as stress free as possible (at least where the chairs were concerned!)."
Jo - hired wedding chairs for her ceremony (Folding Beech chairs) at Kirkstall Abbey, and reception (Limewash Chivari Banquet chairs) at The Left Bank, Leeds
Hi Christine,
"Just to say that the chairs looked amazing and they truly finished off our room! Thank you so much for the email and for all your help over the last few months."
Mark - hired furniture for his wedding at Whirlowbrook Hall

Dear Christine
"Thank you very much.
I have to say that of all the various companies we dealt with in regard to this party, yours was by far the most friendly and efficient. You yourself were such a help when choosing and booking furniture, and also the company still had stuff available at a relatively late date! Your drivers were polite, friendly and efficient and everything happened when you said it would. My only suggestion for improvement would be that YFE did everything from the marquee to the bouncy castle to the catering!!
All the best, thanks again and please pass on out thanks to your drivers."
Deborah
" I was very happy with the tables provided – it was perfect for the Long Gallery." Carmen - referring to our large trestle tables at Castle Howard York.
"The sofas and cubes on Saturday looked fantastic and the delivery was perfect." Amy - Eventures
"Many thanks once again for a very professional and efficient service." Royal Society of St George
"Our experience with YF Events was fantastic and we will certainly be in touch if we require furniture in the future." Gina - Lincoln & York Coffee
"Thanks! Ps the delivery guy was lovely and very quick and tidy!" Charlene - Leeds, lovely to see our customers like our staff as much as we do.
'We were delighted with the black dance floor we hired from you recently, and will certainly hire it again.' Sophie - Papakata
'Everything was absolutely great thanks and I will be certainly use your company again in the future, hopefully with more notice next time. Thank you again' Jenny - Coutts & Co London
'Everything went brilliantly and the chairs looked great. Your customer service and company were great to deal with and I will definitely recommend you to anyone requiring any events furniture in the future.' Elaine - Sun Pavillion Harrogate
'Everything went really well at the weekend and the tables and chairs were great and the deliveries were timed perfectly. Thank you for all your help!' Naomi - York
'You more than met our expectations and we will definitely be in touch for the same event next year.' Diane Rothwell Leeds
"The chairs looked absolutely amazing and they added the perfect touch to our theme. Thanks again for the outstanding service. I will most definitely be coming to you again." Leanne - venue Whitely Hall Hotel Sheffield
"The service that you provided was excellent: The delivery and pick-up was on time (to the minute I think) and your employee was polite and efficient. We will definitely use your company for any future events that we have." Ed - Leeds
"I just want to say out of all the numerous people I've had to deal in regards to my wedding, you have been the most helpful and efficient and I will most definitely use you again for future events." Leanne - Barnsley
"The service has been most efficient – thanks very much! It's been a real pleasure to deal with you and we'll happily hire from you again." Ausra - Micron UK
"Thank you for your great service as always" Cate - Malton
"Thank you so much, I could not fault your chairs and service in any way and we will definitely be keeping you front of mind for any future events" Jessica Theif Hole Cottages
"Everything was absolutley perfect, it all went fantastic and the dance floor looked beautiful." Sophie - Dine @ Allerton Castle
"Service was excellent at such short notice so thank you for arranging that. I will definately be in touch should we be requiring similar products in the future." Chris - Omega plc
"The service was fantastic again as usual. The room looked great for the Morley business Awards 2012 and we would certainly look to using you again for future events" Rachael - Morley Chamber of Trade and Commerce
"It was perfect as usual. He turned up at 8am on the dot and carted all the tables up to the relevant floors for us and was polite and happy to do so - couldn't ask for more really" Jenn - York
"The service was very good and appreciated the cleanliness of the furniture" Richard - Raise the Roof
"Thanks Christine, the service was fantastic. I will definitely be in touch for next year's event." Datong PLC Leeds
"Pleased with the service we had from Y F Events" Elizabeth - Naylor Wintersgill Bradford
"We had a brilliant day and your chairs looked fabulous. We had loads of comments on how nice they were" Claire - Limewash chairs used at The Woolands Hotel Leeds
"Thank you very much for your excellent service - the chairs really made the room" Harriet RSM Tenon Leeds
"The day was a huge success. The furniture you supplied was superb and really brought the party room together" Michael - Sofa's used at The Crown Hotel Harrogate
"Thank you once again for excellent customer service" Barbara - Guiseley
"Thanks for all your help, the set looks fantastic and everybody in The Company absolutely adores the sofas." Andy - Leeds Amateur Operatic Society, commenting on the provision of furniture and flexibility of service for their production of Chess at The Grand Theatre Leeds
"Hi Christine, Thanks for all your very efficient help and support. The evening was a huge success." Gaynor - Huddersfield
"Thanks for your supply of fabulous limewash chairs with hot pink pads and spectacular dance floor for our wedding event this weekend. You did a great job matching up with our clients colour scheme. Once again an excellent service from start to finish, very professional. You just keep going from strength to strength." Leanne - Coopers Marquees York
"Thanks for all your help with the furniture for the Angel Dinner, Glenn and Scott were really nice chaps and so helpful." Margaret - Ripon Cathedral
"Everything was spot on - service and delivery is always good." Dee - Sodexo York
"Thanks once again for your excellent services." Helen - Grimsby
"The tables were great, they looked amazing on stage. The service was friendly and helpful and if the need arises for table and chair hire we will be returning to you." Lynne - Whitkirk Arts Guild, Leeds
"We were very happy with the chairs and the service. I will be sure to pass on your details to anyone who requires it." Adam - Derbyshire