Useful Information
Apart from ordering your tables, chairs and dance floors there are a few other things that you may find helpful when planning your event. Please use the information below as a guide to help you.
How many people can I sit around a table?
The amount of people you can comfortably seat around our banquet tables are illustrated below. Your numbers may not work out exactly or certian groups may wish to sit with one another, use the guide below to help you visualise how your seating arrangements will work. For example a 5' round is often used for 8 guests but up to 10 can still fit comfortably.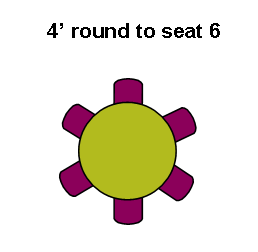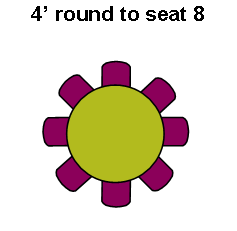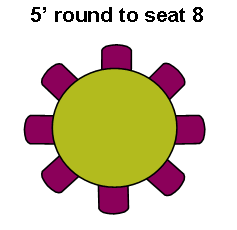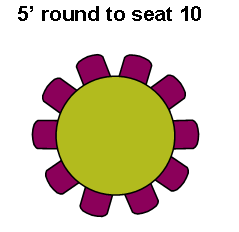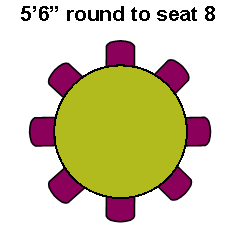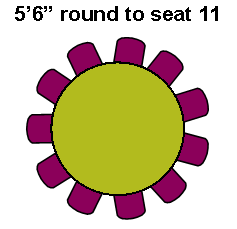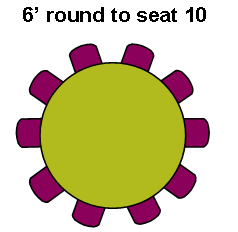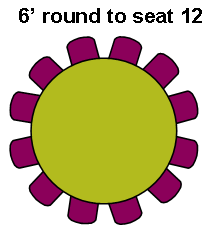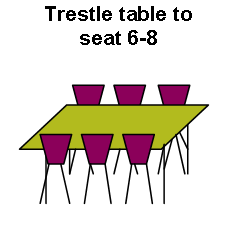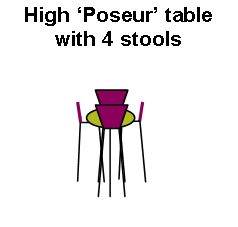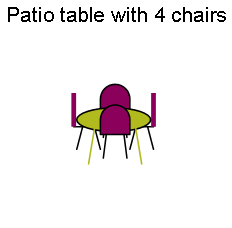 When planning your use of space also consider the size of your venue. Will you be better fitting more people around smaller tables to optimize a smaller space or do you have a large room to fill and larger tables can be utilised? You will require approximately a 9m2 area for a 5' round table to seat 10 and 11.5m2 area for a 6' round table to seat 12.
How big a dance floor do I need?
Or should that be how hard do your guests want to party? Use our guide below to the size of your dance floor.
12' x 12' approx 100 guests
16' x 16' approx 200 guests
20' x 20' approx 300 guests
Do remember you know your guests the best, are they all likely to be up and dancing at once? If so allow for a larger dance floor area. You also need to consider the size of the room, remember your floor does not have to be square. Our dance floor system is very adaptable and comes in 4' x 2' pieces so we can make to the size you require to best fit your space.
I need to find a marquee company or other service provider?
We work with many different trades who all contribute towards making your event a success, you can find below a list of companies who may be able to help you. Please do remember though, Yorkshire Furniture Events cannot be held responsible for services provided by these suppliers.
Marquee Hire:
Catering:
www.purplechillieventcatering.co.uk
Event Planning:
Venues:
Barmbyfield Barn Barmby Moor York
www.doncaster-racecourse.co.uk
www.nationaltrust.org/nostell-priory
www.newcastle-racecourse.co.uk
Florists & Decorations:
www.flowersbyjoannakeely.co.uk
Hair & Make-up:
Entertainment:
Photographers:
Other Event Equipment Hire:
www.dancefloorhireyorkshire.co.uk